Onomap Name Classification Software

OnoMap is a research methodology, based on an academic project, which allows users to classify individual or lists of given and family names into groups of common cultural, ethnic and linguistic origins.
About Onomap
There are growing needs to understand the nature and detailed composition of ethnic groups in today's increasingly multicultural societies. Ethnicity classifications are sometimes hotly contested, but the biggest problems arise from inferior quality classifications, or no available classification at all. Name analysis and classification provides an efficient and transparent method of achieving such subdivisions in the absence of ethnicity data, and has been shown to be especially pertinent in public health and demographic applications.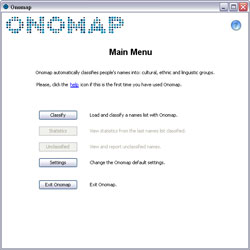 Previous approaches to name analysis have focused upon one or a small number of ethnic minorities, typically based on case studies rather than complete populations. Onomap, by contrast, uses individual level data about entire populations across the world to develop a new ontology of ethnicity. It combines important multidimensional facets: language, religion, geographical region, and culture, all as encapsulated in people's names. It has been developed using data collected at very fine spatial scales, and made available, subject to safeguards, at the level of the individual. The classification develops up to 185 independently assigned categories of cultural ethnic and linguistic (OnoMap) groups, termed OnoMap Types, based on the probable origins of their names. These can be combined into bespoke classifications of ethnicity that can be applied in different applications
The Onomap Software
The OnoMap software makes it possible to classify individual names or lists of names using the OnoMap taxonomy. The software is very safe and simple to use, and the list processing software requires no complex installation. Because of the sensitive nature of names, and limitation this often puts on their analysis, the software has been designed to run within a secure and offline environment where no data are transferred from your local machine. The list processing software analyses forenames and surname pairs and classifies them according to the OnoMap taxonomy. The software provides an export file of the results and graphs which compare the data to national and regional distributions.
If you would like to try the OnoMap coding system, please visit our online version at: www.onomap.org
For commercial, public sector or academic use, please contact Pablo Mateos.
Free OACoder Software
What is OAC and OACoder?
The Output Area Classification (OAC) is a free neighbourhood geodemographic system provided by the Office for National Statistics (ONS). It is built entirely from 2001 Census data and has an open and peer reviewed methodology. The OAC classification has an active User Group which has its own website: www.areaclassification.org.uk. This website contains lots of useful information about OAC, how it was created and how it can be used.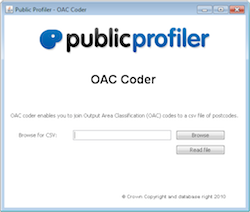 What is the OACoder Software?
The OAC classification has previously been disseminated by the ONS at the Output Area Level. For a lot of users this has been problematic given that address records typically consist of lists of unit postcodes. A recent development at the ONS has created an open licence version of the National Statistics Postcode Directory (NSPD), which usefully includes an OAC Code for each unit postcode in the UK. We have created a free tool which uses this file and can read a CSV list of postcodes, and then append the corresponding OAC code for each of these addresses.
How do I get the Software?
The good news is that this tool is free to use - the only requirement being that you agree to the terms of a license as part of a short software request form. After submitting the form you will be emailed with a link to download the software.
What are the minimum system requirements?
You will need a Windows computer, Java 1.5 or higher installed and with 1 gig of memory.
Download the software
The following link takes you to an external website...